Warmer and windy today, severe potential continues to increase for Friday
Published: Mar. 30, 2023 at 4:21 AM CDT
CEDAR RAPIDS, Iowa (KCRG) - Plan on a big spread in temperature today as a strong warm front lifts up into eastern Iowa. As this occurs, there may be a few scattered showers that flare up in northern sections of the state around the midday hours. Highs will range from the upper 40s north to mid-60s farther south. A few thunderstorms will probably be found tonight as well, though the severe risk appears low on those. That's not the case for tomorrow, though, and severe weather is still expected.
DETAILS REGARDING FRIDAY'S SEVERE RISK...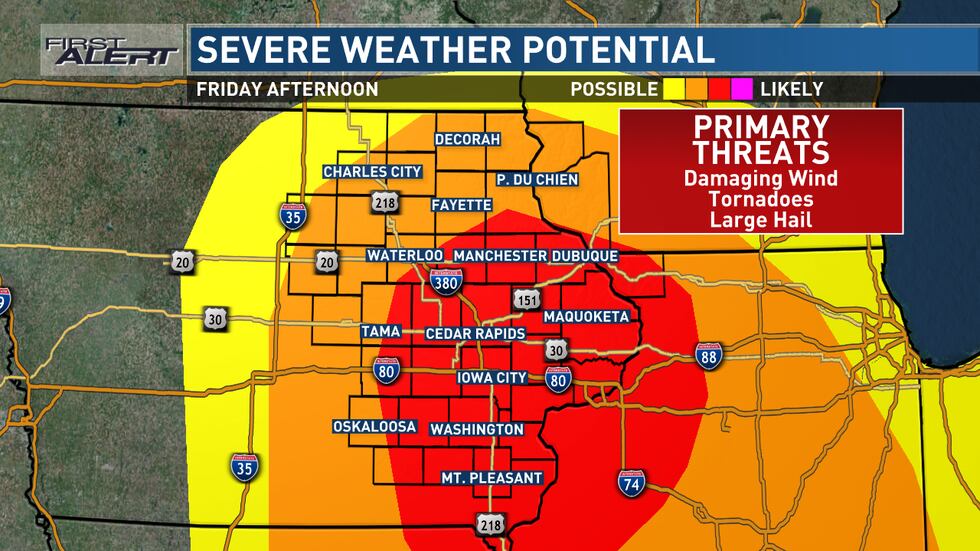 At this time, a fast-moving line of severe storms is expected to develop and move through the area between 3 pm and 8 pm. Initially, these storms may develop isolated and on their own, then grow quickly into a fast-moving line. Damaging straight-line winds of 70+ mph appear probable in addition to several tornadoes that may develop along or embedded within this line. Now is the time to make sure you're prepared to receive severe weather warnings and know where your safe place will be in the event you need to act!
Make sure you stay up to date with the latest first alert forecast as this event continues to unfold.
Copyright 2023 KCRG. All rights reserved.