Teen held in Texas school shooting that left 1 dead, 1 hurt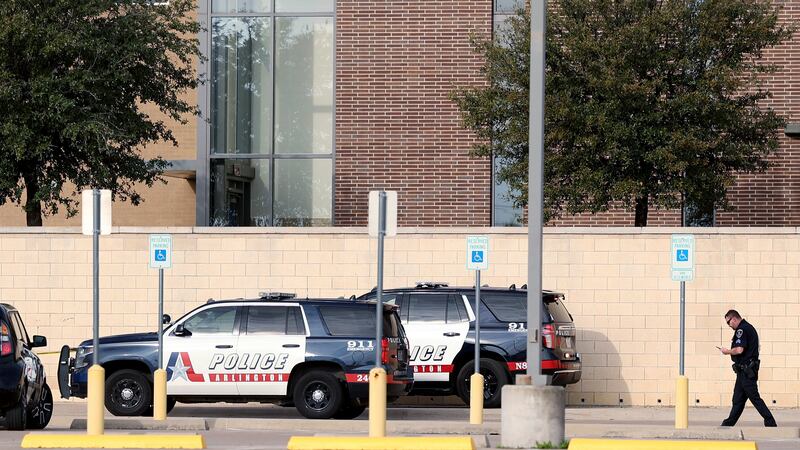 Published: Mar. 21, 2023 at 5:15 PM CDT
ARLINGTON, Texas (AP) — A 15-year-old arrested in a fatal shooting outside a Dallas-area high school will remain in custody following a Tuesday detention hearing, the boy's lawyer said.
The Monday shooting on a high school campus in the suburb of Arlington left one student dead from a gunshot wound and another injured by shrapnel. The early-morning gunfire prompted officials at Lamar High School to lock the building down for hours, although police said they arrested a student on a capitol murder charge stemming from the shooting within minutes.
Lisa Herrick, a court-appointed attorney for the boy, said that after questioning, a state judge Tuesday found there was probable cause for the teen's arrest. The judge ordered he remain at a juvenile detention for the next 10 days after which his custody will be re-evaluated, Herrick said.
Herrick said prosecutors are yet to formally charge the boy, but that in addition to the capitol murder charge Arlington police referred a terroristic threat charge to the district attorney's office. A spokeswoman for the Tarrant County district attorney declined to comment, noting the case is still under investigation.
Police have not said what motivated the gunfire that began around 6:55 a.m., but said the suspected shooter fled without ever entering the school building. Authorities have not identified the victims and declined to release the alleged shooter's name because he is a minor.
Herrick said she does not know whether her client had a relationship with the victims and that he has not spoken to police. She declined to provide more details on the circumstances of the shooting and police investigation.
Herrick said her client has not previously been "involved in the juvenile justice system" and is "understandably emotional."
Copyright 2023 The Associated Press. All rights reserved.