Waukee couple warn of coyotes after pet dog attacked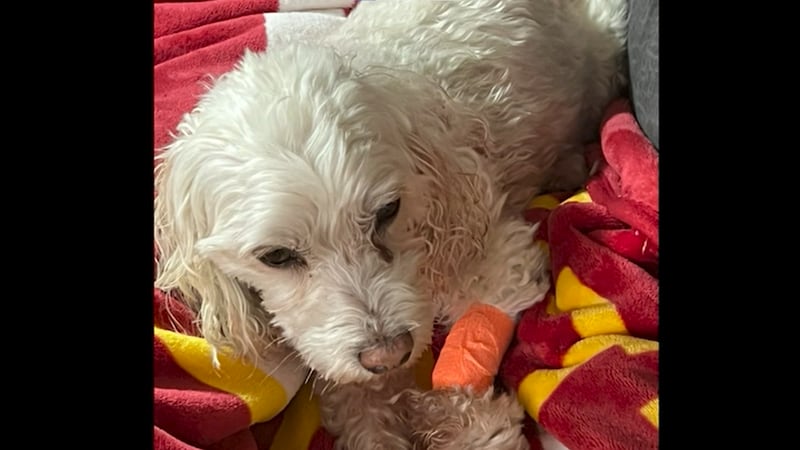 Published: Mar. 9, 2023 at 10:46 AM CST
WAUKEE, Iowa (CNN) - A couple in central Iowa are warning other residents to protect their pets after their beloved pet dog was attacked by coyotes on Friday night.
The attack on the couple's small dog by two coyotes was captured on the couple's home security video.
Sue Usher said she and her husband let their six-year-old Bichon Frise and Schitzu mix, Bear, out to go to the bathroom like they always do.
However, they soon found the dog at the front door, covered in blood.
To find out what happened, Sue checked their home security camera footage.
"There was one coyote that came from the front and one coyote that came from the back, and they grabbed him by the neck and pulled him across the yard."
Sue said she's happy Bear escaped the attack and survived.
"He had several places in his neck that he was bitten and bites all over him, and he has stitches in several places," she said.
The vet told Sue it's a miracle Bear is still breathing, adding that his recovery will take time.
"He was in so much pain," she said. "And he's been in a lot of shock. He goes outside and kind of looks around. He's just so afraid to go out there now."
Sue and her husband have invisible fencing to keep Bear in the yard, but that does not keep coyotes out of the yard.
She is now thinking it may be time to build a fence.
Her hope is others will learn from the attack on her dog and do what they can to protect their small pets.
"We just wanted to make sure people are aware and not to let their dogs out in Waukee," she said.
Copyright 2023 KCRG. All rights reserved.