Asi, Oklahoma State women top No. 20 Iowa State 73-68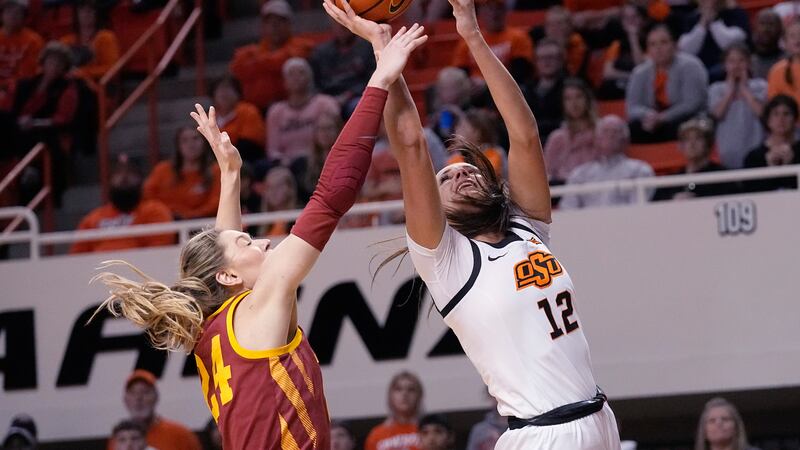 Published: Feb. 22, 2023 at 9:07 PM CST
STILLWATER, Okla. (AP) — Anna Gret Asi capped Oklahoma State's best 3-point shooting night of the season with a clutch, tightly contested shot in the final minute and the Cowgirls topped No. 20 Iowa State 73-68 on Wednesday night in a showdown for third place in the Big 12 Conference.
Asi made the score 71-66 as the shot clock expired with 49 seconds to play, making Oklahoma State 8 of 12 behind the line.
The Cyclones had a chance to tie the game but air-balled a 3-pointer with 4.1 seconds to play and then had to foul three times before sending the Cowgirls to the line. Lexy Keys wrapped it up with .4 to go.
Terryn Milton scored 15 points to lead Oklahoma State (20-7, 10-5), which has won six straight. Taylen Collins added 14 points and Asi had 10. The Cowgirls hit at least half of their 3s for the fourth time this season and it's the first time they finished above 60%.
Ashley Joens scored 20 points for the Cyclones (17-8, 9-6) to move into 18th place on the NCAA scoring list with 2,880 points. Morgan Kane added 16 points on 6-of-7 shooting. The Cyclones also had eight 3-pointers but on 21 attempts.
Lexi Donarski pulled ISU with 68-66 with a layup at the 2:12 mark and had a chance to tie after an OSU turnover but missed a shot. Asi missed a layup for the Cowgirls but the ball went out of bounds off ISU with 1:09 to play. Oklahoma State ran the clock down before Asi's clutch shot.
Joens converted an offensive rebound into two free throws at 41 seconds to make it 71-68 but after an OSU miss the Cyclones missed the tying attempt.
Naomie Alnatas hit a 3-pointer in the final minute of the first quarter to give the Cowgirls a 22-19 lead and then the Cyclones went 5 of 18 in the second quarter to fall behind 42-33 at the half.
The Cyclones put together an 11-0 run early in the third quarter, taking a 46-44 lead on a Joens layup. The game stayed tight with the Cowgirls making four free throws in the final minute for a 57-53 lead going into the fourth quarter.
Iowa State is home against TCU on Saturday and Oklahoma is at Kansas on Sunday.
Copyright 2023 KCRG. All rights reserved.