More community college students opting for certificates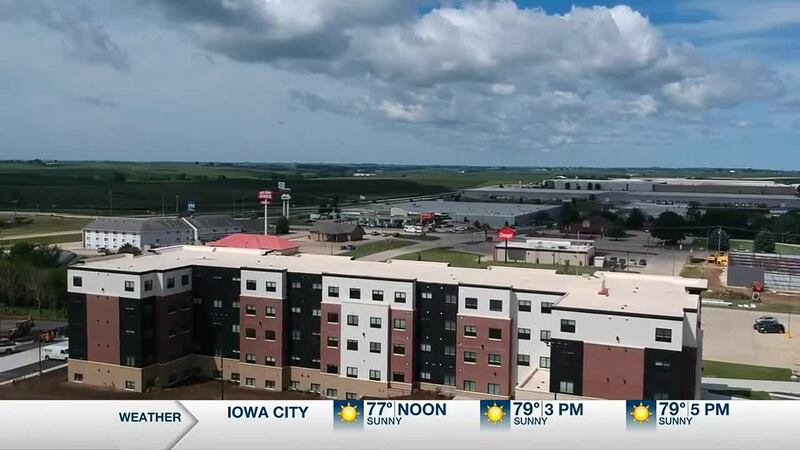 Published: Feb. 12, 2023 at 10:15 AM CST
PEOSTA, Iowa (AP) — Teresa Turnis sat in a classroom at Northeast Iowa Community College in Peosta on Thursday, watching as instructor Alex Goerdt showed the students how to draw an octopus using Adobe Illustrator.
"You can either make a half circle, or you can merge a circle with a rectangle," Goerdt said, as the pink creature took shape on his screen. " … You can draw all the tentacles, if you want, or you can do one and just duplicate and scale it."
The course is one of six that Turnis, 48, will take to earn a digital graphics certificate from NICC, which she plans to complete by the end of the summer.
"(Certificate programs) are appealing to nontraditional students who maybe have already earned a degree and want to learn some more skills," said Turnis, who lives in Manchester and works as a real estate broker.
According to the Iowa Department of Education's recently published Condition of Community Colleges Report, certificates comprised the largest percent of credit awards at Iowa's 15 community colleges during the 2021-2022 academic year, at 26.7%.
The Dubuque Telegraph Herald reports this marked the first time in the history of the community colleges' management information system that certificates took the top spot. Associate of applied science degrees weren't far behind, though, comprising 25.9% of credit awards, while associate of arts degrees made up 24.6% of awards.
Wendy Knight, NICC vice president of institutional effectiveness and advancement, said certificates often are attractive to students due to the brevity of the programs, which can allow them to enter the workforce faster. Certificates seek to help students renew or enhance their skills in a particular field, whether in their current job or to better market themselves to employers.
"Because employers are looking for specific skill sets, the graduate from high school is looking at, 'How can I maximize my dollar and gain a skill set that I need to be employable?'" she said.
Knight said the number of certificates providing college credit that NICC awards has remained relatively steady in recent years, though the college's non-credit, short-term career pathway certificates are becoming more popular.
In the 2021-2022 academic year, NICC awarded a total of eight credit certificates out of 590 total credentials awarded. The college offers nine certificate programs for credit, including animal science, sports administration, agriculture business and data analytics.
During the same year, the college awarded 427 career pathway certificates, which are available in topics such as advanced manufacturing, construction, business and hospitality and education.
Turnis was among the first students to enroll in NICC's digital graphics certificate, a credit-based program that launched in fall 2022.
Carla Heathcote, graphic design program lead, said the certificate is an example of a "micro-credential," a concept she said has become popular in the past 10 years in higher education.
"It really boosts (the student's) skills, no matter what area they're working in … and the expediency works well for the working professional," she said.
Turnis said the digital graphics program's flexibility lets her continue working while studying, and she is grateful that the classes she will take for the certificate also would count toward a two-year graphic design program, should she choose to enroll in that later.
"It was important to me to learn the graphic design element so I can set myself apart in my (business) materials and really add value to my business, … and it's a way to get started if I want to do the full degree later," she said. "I can get my feet wet and learn the things I'm most excited about."
Federal COVID-19 relief dollars, private funders and the Opportunity Dubuque program through Greater Dubuque Development Corp. also have allowed the college to offer some of its non-credit certificates tuition-free to students in recent years, which Knight said has contributed to their popularity.
Katie Glass, public information officer for Southwest Wisconsin Technical College in Fennimore, Wis., said her institution has not seen an increase in students seeking only a certificate, in part because the college strongly emphasizes its two-year programs.
"Our mission is to improve lives, and the best way we can do that is getting (students) through a technical diploma or a two-year associate degree," she said. "That offers the best opportunity for improvement."
The college does offer a variety of certificates that often are embedded within longer programs, however. For example, students in Southwest Tech's two-year accounting program automatically receive certificates in payroll assistance and tax preparation assistance once they have completed certain courses as part of the overall program.
"Although we have a very high retention percentage for our students … if they were to drop out of a program, this way they're not left with nothing," Glass said. "They have those certificates, which are industry-recognized."
Other certificates are included in the college's adult basic education programs or offered as part of programs such as nonprofit leadership, where students can take three courses to earn a certificate in fundraising, marketing or strategic planning.
Copyright 2023 The Associated Press. All rights reserved.