Flood risk lower for most eastern Iowa rivers, but higher on Mississippi
Published: Feb. 10, 2023 at 5:36 PM CST
CEDAR RAPIDS, Iowa (KCRG) - The first spring flood outlook from the National Weather Service is good news for eastern Iowa rivers, with one notable exception.
The outlook, issued by individual NWS offices that serve eastern Iowa, showed that all of the tributary rivers to the Mississippi River in the KCRG-TV9 viewing area have a near- to below-normal risk of spring snowmelt flooding. It also highlighted that the Mississippi River itself has a near- or above-normal risk for flooding, largely due to upstream conditions.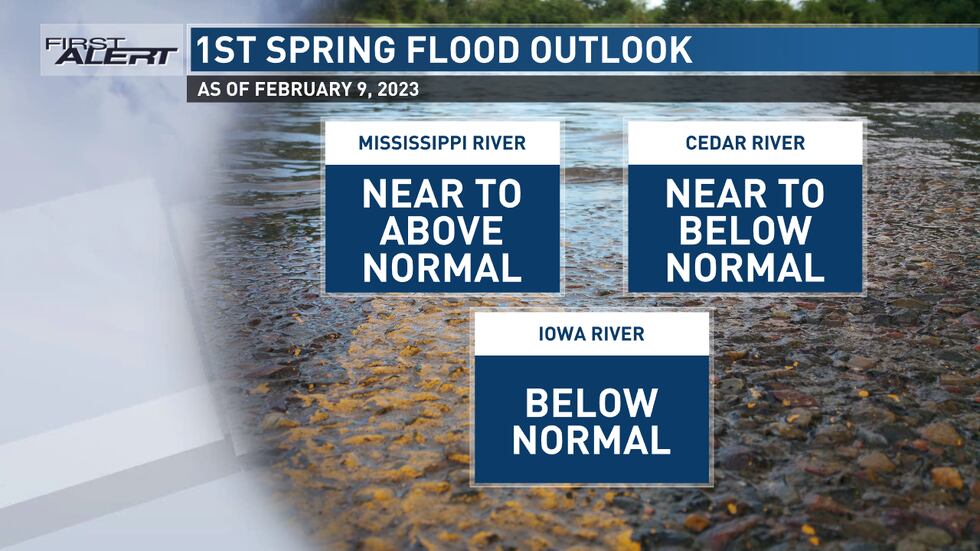 Contributing factors to a reduced flood risk
Most of this year's flood outlook is based on common-sense ideas that are similar to those that we've been dealing with for at least a year. Notably is the lack of deep and widespread snow cover locally, which is helping to lower the flood risk on Mississippi River tributaries (basically, any river but the Mississippi in eastern Iowa).
Drought conditions that still exist, despite a couple of months of above-normal precipitation underway, have also lowered the risk, with lower soil moisture and lower river levels allowing for more room for snowmelt and rain.
Across the upper Midwest, the depth of the ground that is frozen is shallower than normal, which is actually a good thing for lowering the flood risk. This allows the ground to thaw out quicker in the spring, reducing the amount of rain or snowmelt that would otherwise just run off from soil that couldn't soak in the water.
The biggest factor in the higher flood risk for the Mississippi River is the upstream snowpack and how much water is just waiting to melt and be released from it. States to our north have seen repeated snowstorms this winter, with well-above-normal snowfall totals so far this season in many cases. Within this snowpack, between two to as much as eight inches of liquid water is present, which will be released as the snow melts.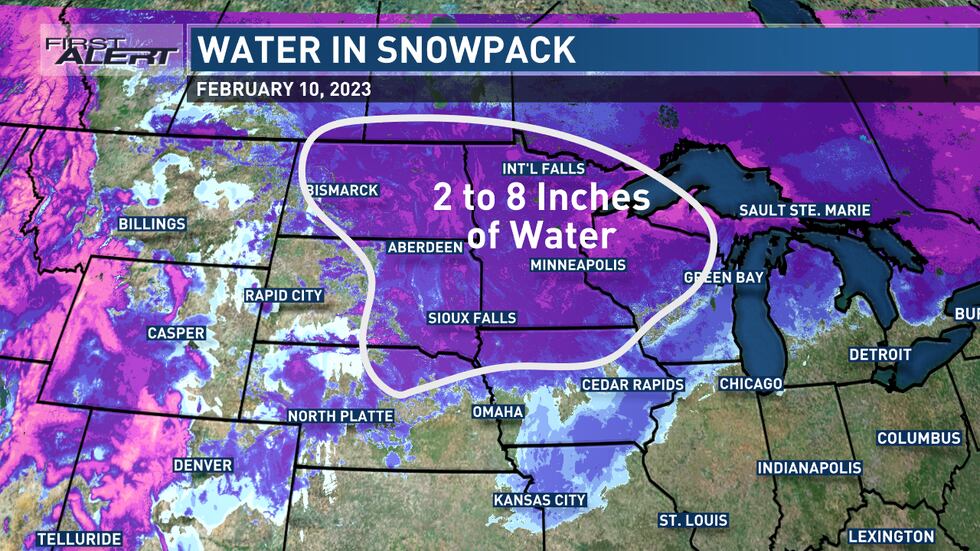 Of course, how fast this snow melts will be a big thing to watch; a slow thaw upstream will allow for a lower but more prolonged increase in Mississippi River levels. An early-season heat wave, on the other hand, would be like a big rainstorm dropping that much rain in a relatively short period of time. This would cause more significant problems for locations along the Mississippi.
What does the future hold for Spring precipitation?
Most of the current mid-range outlooks from the Climate Prediction Center indicate that we have a better chance of seeing above-normal precipitation through the end of February. Their longer-range outlook for March, April, and May also shows a slight lean toward above-normal precipitation for parts of eastern Iowa. Upstream areas are not included in this potentially-wetter regime, which is a good thing for our area rivers.
The NWS' outlook deems the precipitation threat, as it stands right now, to be a neutral factor in the spring flood potential. That being said, this is one of the more changeable parts going forward, and we'll be watching closely to see whether it changes.
How does this outlook compare to a normal year?
In the majority of river locations in eastern Iowa, the percentage chance of reaching flood stage is lower than a normal year. The exception, as described above, is spots along the Mississippi, where most chances are higher than normal. Here are a few examples along the tributaries:
Cedar River at Cedar Rapids: 16% chance of minor flooding, compared to a long-term average chance of 24%.
Iowa River at Marengo: 57% chance of minor flooding, compared to a long-term average chance of 71%.
Maquoketa River at Manchester: 15% chance of minor flooding, compared to a long-term average chance of 19%.
Wapsipinicon River at Anamosa: 16% chance of minor flooding, compared to a long-term average chance of 23%.
Meanwhile, it's a different story along the Mississippi River:
Mississippi River at Dubuque: 69% chance of minor flooding, compared to a long-term average chance of 50%.
Mississippi River at Rock Island: 73% chance of minor flooding, compared to a long-term average chance of 56%.
Mississippi River at Muscatine: 75% chance of minor flooding, compared to a long-term average chance of 57%.
The measuring stick for anybody who has lived here for a while is 2008, and our current chances for flooding are much lower than they were perceived to be at around the same time that year. For example, this year's 18% chance of minor flooding on the Cedar River at Cedar Rapids is well below 2008′s 71% chance. The Iowa River at Marengo was given a 99% chance of reaching minor flood stage in 2008, much above the current risk.
That being said, the risks issued by the NWS in 2008 for major flooding, which most area rivers saw, were high but far from a guarantee. All of this is not to call out the NWS by any means; they correctly emphasized the moderate to high risk for river flooding in their outlooks that year (and the crests on local rivers took place within the week after their outlook period ended). However, a bit of a wildcard factor then was the extreme amount of rainfall that was yet to come after an extreme snow season.
The best bet is to stay updated through the Spring to see what, if any, changes we see take place to the water and flooding situation here. The next outlook from the NWS comes out on February 23, with the final spring flood outlook issued on March 9.
Copyright 2023 KCRG. All rights reserved.