Willow Creek Theatre a venue for Iowa City performances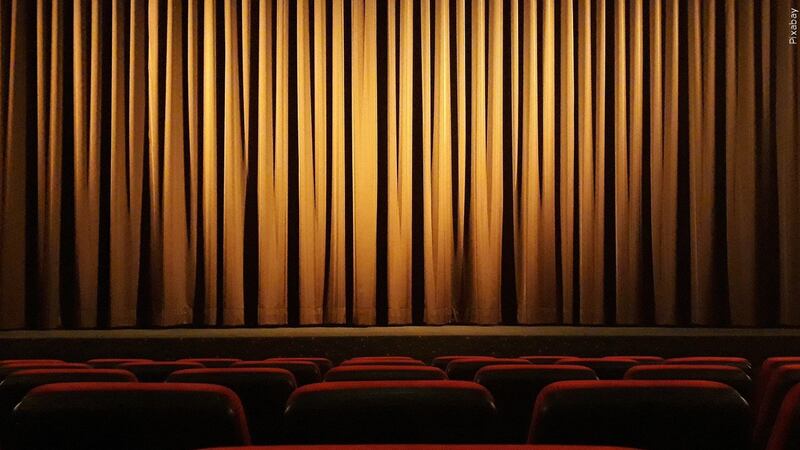 Published: Jan. 22, 2023 at 10:39 AM CST
IOWA CITY, Iowa (AP) — In the first "fully functional" year of Willow Creek Theatre Co., there's been a production of "Hedwig and The Angry Inch," improv performances and open-mic nights in a building containing folding chairs and couches, a small display of candy bars and snacks, and a single wall with a preexisting mural of a tree.
Luke Brooks, co-founder, sat with the Iowa City Press-Citizen in early November on those couches. He arrived with his newborn son before an executive meeting scheduled later in the evening.
On stage was a rehearsal, making use of the space Brooks, Lindsay Brooks, and Kaya Schafer founded in January 2020 after months of organizing the previous year. It wasn't until late 2021 that the theater would get a true start, delayed by the pandemic.
In the past year, the theater's programming has gotten more advanced, more exciting, and it's due to the people who step inside with bold ideas wanting to put something together, Brooks said.
By the end of next year, Brooks thinks that Willow Creek Theatre will have cemented itself as a place in the community that audiences can experience something excellent.
So instead of focusing on specifics for 2023, Brooks is simply trying to do the work he is called to do.
"If I stay involved with my community, if I stay listening to what they want to do, what they need to do, what they need help with, something always comes up," he said.
Brooks has carved out a space for artists, and himself, in Iowa City.
But he didn't have that space growing up in a family that he describes as interested in sports and business.
He didn't get along well with people in sports, not understanding the anger and competitiveness his peers had in these environments.
These social expectations were difficult for Brooks to navigate as a kid whose autism was undiagnosed.
Instead, he would dig into TV shows, movies, and books, consuming material that explored a misunderstood character finding their place in society.
Those characters were reflected in Brooks' own actions frequently.
In the eighth grade, Brooks took an elective centered on acting.
"I found this place where everyone around me was saying, 'You get it. You understand what's going on,'" he said. "That was a brand new feeling to me, being validated by peers and teachers for a natural understanding of what was going on."
Performing arts, Brooks later realized, would have the competitiveness he didn't quite understand in sports. But it did make him feel like he belonged, and it was a space that required everyone's involvement to put together a show.
Upon graduation, Brooks observed a common theme among some of his talented peers.
They were leaving the arts, not because of a greater interest, but because they couldn't see a pathway to success in it, especially as young adults in Iowa.
Geography was a barrier. Finances were a barrier. The lack of versatile programming and opportunities locally was a barrier.
He didn't — couldn't — disagree with their reasons.
"From then on, I knew what I wanted to do with my artistic career was to create systems that created opportunities for others," Brooks said.
Though Brooks' primary focus has always been acting, it is difficult to sustain oneself through it, he said.
He didn't want to sacrifice his life outside his career but he knew he could never step away from the arts either.
In Brooks' experience, there are theaters that will prioritize thousands of dollars toward buying equipment to build a set, but the people actually doing the building are overworked and underpaid.
As Brooks found himself in more managerial positions, he saw how the art would suffer when the community of working artists were taken advantage of.
That was compounded with a time of theater companies up to the national level reckoning with long-standing ethical failures on their parts.
"I remember sitting with the other founders and just saying like, 'I don't understand why it's so hard to prioritize the human component because we are humans,'" he said. "We are also suffering. We're also terrified of how we're going to be able to afford dinner tonight."
If other theaters struggled to value its human artists, Willow Creek Theatre would be the "one spot" where, even if it can't provide the artists everything they need, "the culture is geared towards doing as much as we can."
In early 2022, Brigid Martin came on board as the programming director for Willow Creek Theatre, unfamiliar with a theater with a mission quite like this and struck by Brooks' passion for the work.
The model to pay artists above all hasn't been perfected, evident by the fact that most of their executive board is volunteer-based, Martin said.
But the mission remains important.
Willow Creek Theatre Co., from Martin's perspective, is a space that is open to all.
The team is always looking to get as many artists and audiences into their doors. It's a place that artists can develop and present their work in.
"I'd really just like to see more people getting in on the action and on our mission. So much of it's held together by two or three people who are solo keeping the company running," she said. "I think just having more people interested in what we're doing, and being able to provide their support, whether financially or by word of mouth… and just making a place for us in the wider Iowa City arts culture."
In this theater, Brooks is not the star. He's the person working in various roles so that others can have that spotlight on them.
It takes him away from acting, but if it's what it takes to achieve the goals of Willow Creek Theatre Co., it's worthwhile.
"These projects have brought people into my life and ideas into my life that have made me a better person," he said. "I really credit the people who do step into their roles and do get up on the stage and people who create the sets and design the lights there. They have brought so much to my life personally in ways that I don't know if they fully understand."
Copyright 2023 The Associated Press. All rights reserved.