Sensebaugh scores 27, Ohio State tops Iowa 93-77 to end skid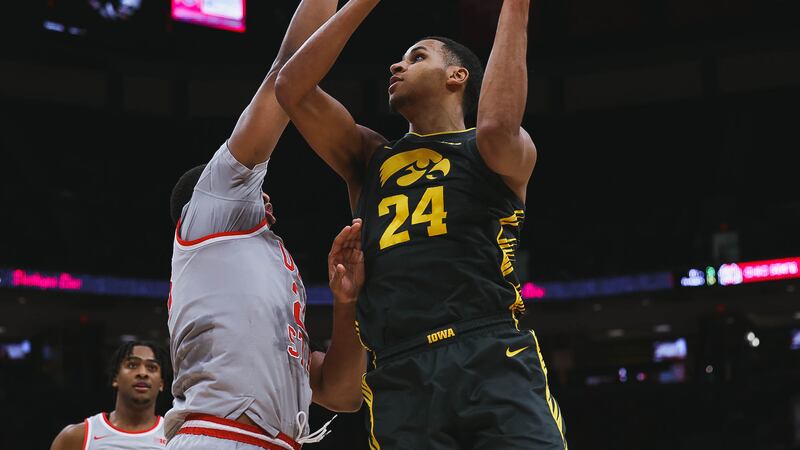 Published: Jan. 21, 2023 at 5:33 PM CST
COLUMBUS, Ohio (AP) — Freshman standout Brice Sensabaugh scored a season-high 27 points on 10-of-12 shooting, including 4 of 5 from 3-point range, and Ohio State ended a five-game losing streak with a 93-77 win over Iowa on Saturday.
The Hawkeyes overcame a 12-0 Ohio State run in the first half but a 9-0 run early in the second half provided the room the Buckeyes needed to end a skid of single-digit losses.
Isaac Likekele had a season-high 18 points with 10 rebounds and seven assists for Ohio State (11-8, 3-5 Big Ten Conference) and Zed Key had 11 points and nine rebounds. Justice Sueing and Sean McNeil both scored 10 points.
Kris Murray had four 3-pointers and 22 points to lead Iowa (12-7, 4-4), which had its four-game winning streak snapped. Filip Rebraca added 15 points and Ahron Ulis 12.
Iowa was 7 of 15 from 3-point range and shot 48% in the second half but couldn't keep pace with the Buckeyes, who shot 65% (22 of 34) and had a 21-10 rebounding advantage after the break.
Likekele had a pair of layups and Sensabaugh converted a three-point play in a 10-0 run that put the Buckeyes on top 49-39 with 16:20 to play.
The teams basically swapped baskets after that with the lead ranging from 8 to 10 points, until a Sensabaugh 3-pointer and consecutive baskets by Key in an 8-0 run made it 79-63 with 5:43 to play. Key appeared to injure a leg on a dunk that closed out the scoring in the final minute.
Ohio State only averaged 66 points a game during the five-game losing streak but averaged 81 a game before the skid. Four of the five losses were by four points or less, starting with a 71-69 setback against No. 1 Purdue.
McNeil had back-to-back 3-pointers in a 12-0 run that put the Buckeyes up 25-15 midway through the first half but the Hawkeyes clawed back, pulling within 37-35 with 3:06 to go.
That ended the scoring in the first half as Iowa missed its last three shots and Ohio State its last four and both teams had three turnovers in the final 4:05.
Iowa had not played since Sunday because Wednesday's game with Northwestern was postponed because of COVID within the Wildcats' program. That game has been rescheduled for Jan. 31. The Hawkeyes play at Michigan State on Thursday and is home against Rutgers on Sunday.
Ohio State goes to Illinois on Tuesday.
Copyright 2023 KCRG. All rights reserved.