Slick road possible Thursday, scattered snow, patching drizzle still possible
Published: Jan. 19, 2023 at 5:44 AM CST
CEDAR RAPIDS, Iowa (KCRG) - Scattered snow and pockets of drizzle continue in eastern Iowa Thursday morning.
While much of the accumulation is over with, watch for slick roads during your morning drive. Fog is also possible south of I-80.
Some eastern Iowa schools have delayed the start of classes due to the slick roads. See the full list of school delays here.
The heaviest snow fell over our northwest zone, with little to none in southeast Iowa.
Plan on highs today to stay into the lower 30s for most. Looking ahead, clouds are going to be a stout side effect of this weather pattern and will often be difficult to break.
A weak system is showing up for Saturday night into Sunday morning. At this time, impacts appear low and mainly confined to the southeast half of the area, where minor snow accumulation could occur.
Early next week, plan on a continuation of the cloudy and cool temperatures, with highs generally into the upper 20s to lower 30s.
See the latest road conditions here: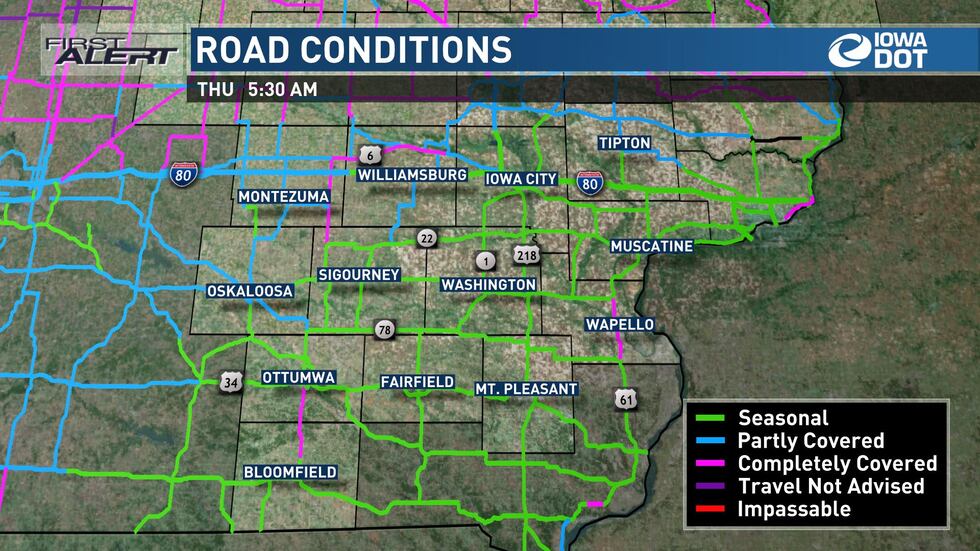 Copyright 2023 KCRG. All rights reserved.