Hazmat team called in for cleanup after Clayton County semi crash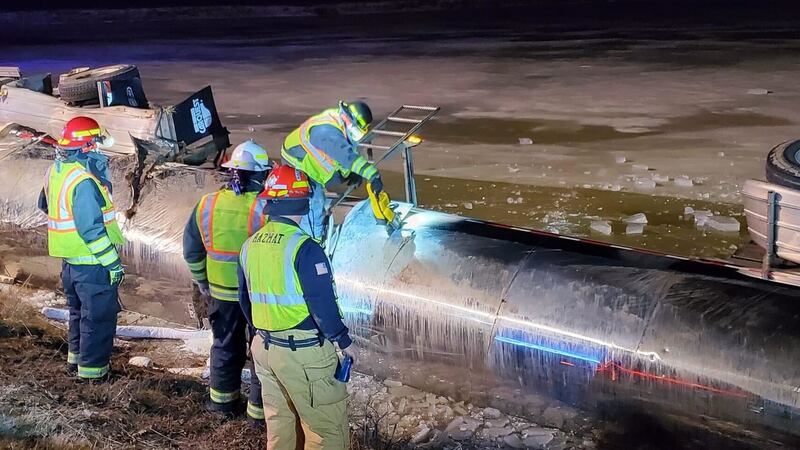 Published: Jan. 3, 2023 at 7:09 AM CST
GUTTENBERG, Iowa (KCRG) - A Hazmat Team was called in for a semi rollover in Clayton County that caused milk to leak into a pond just before 6 p.m. on Monday.
The Guttenberg Fire Department said the crash happened in the 300 block of North Highway 52. The semi-tractor had crashed and rolled into the pond.
In a Facebook post, the Linn County Hazmat Team said the semi was carrying about 4,800 gallons of milk. The occupants of the semi were injured in the crash and were taken to a local hospital. Crews shared images of their work in the Facebook post.
Guttenberg firefighters said crews sandbagged the only outlet from the pond to prevent milk from getting into any other water source. Crews offloaded the milk from the tanker and then worked to remove the crashed tanker from the pond. The scene was cleared just before 1 a.m. Tuesday.
The Iowa DNR is expected to assess any potential water or environmental issues with the pond following the crash.
The Iowa State Patrol has not yet reported the cause of the crash, nor the condition of the people who were in the truck at the time of the crash.
Copyright 2023 KCRG. All rights reserved.